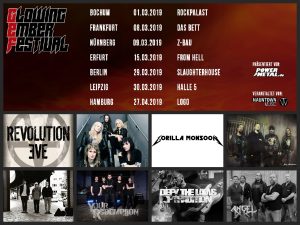 ::: english below :::
Die GLOWING EMBER FESTIVAL Tour geht ab dem 1.3.2019 in die dritte Runde. Auf diese Show haben die Fans lange gewartet, nun ist es soweit! ANGEL DUST werden auf dem ersten Konzert eine Special-Show spielen.Auch in diesem Jahr können sich die Fans auf Konzerte in sieben verschiedenen Bundesländern freuen. Insgesamt gibt es sieben Termine für diese Indoor Festival Tour mit jeweils wechselndem Headliner.
—————————————————————
The GLOWING EMBER FESTIVAL tour goes into the third round as of 3-1-2019. On this show the fans have waited for a long time, now it's fixed: ANGEL DUST will play a Special show on the first concert. Also this year the fans can look forward to concerts in seven different federal states. Altogether there are seven appointments of this indoor-festival tour with changing Headliners.
1. März 2019 (March 01, 2019) Bochum – Rockpalast
mit/with ANGEL DUST, [SOON], THE WITCHES DREAM, NANCY BREATHING, COMING DOWN
8. März 2019 (March 8, 2019) Frankfurt – Das BETT
mit/with REVOLUTION EVE, ACACIA, SOULUTION, [SOON], LAWMÄNNER
9. März 2019 (March 8, 2019) Nürnberg – Z-Bau
mit/with DEFY THE LAWS OF TRADITION, [SOON], DROWN THE SUN, MORBID SKY, OCEANIC
15. März 2019 (March 15, 2019) Erfurt – Club From Hell
mit/with GORILLA MONSOON, THORROWNIGHT, FALLING MEAT, [SOON], BARMY ROAD
29. März 2019 (March 29, 2019) Berlin – Slaughterhouse
mit/with PERO PERO, BABA CAT, [SOON], SLAVES AND BULLDOZERS
30. März 2019 (March 30, 2019) Leipzig – Halle 5
mit/with YOUR REDEMPTION, LIJANA, [SOON], REAPER'S SKYTHE, KONFETTI COCKTAIL
27. April 2019 (April 27, 2019) Hamburg – Logo
t.b.a.
Aktuelle Infos gibt es hier/ Current information you can find here: