::: english below :::
GINGER RED stehen auf ihrem aktuellen Album "Donuts And Coffee" für frischen und frechen Rock mit fetten Riffs, groovendem Rhythmus und prägnanten Hooklines. Der hohe Anspruch an die eigene Musik sorgte in der Bandgeschichte schon häufiger zum Motto "Gut Ding will Weile haben": nach der Gründung 2006 erschien das Debütalbum "Hard As A Rock" 2010, gefolgt von einer Tour mit den PRETTY MAIDS und diversen anderen Konzerten. Aus dieser Ära ist nur noch Gitarrist und Bandgründer Tom Weise übrig und so dauerte es wieder ein paar Jahre bis eine neue Besetzung gefunden wurde, die die hohen musikalischen Ziele erfüllen konnte.
"Wir wollten einiges neu und frisch machen, aber dabei die Herkunft von GINGER RED nicht verleugnen", so Tom Weise.
GINGER RED – mit der charismatischen Sängerin "Chantal Jansen" und einer live-erfahrenen Band möchte sowohl live als auch im Studio vor allem eines zeigen: die Freunde am "Ginger-Rock"!
Dazu hat man sich mit dem sehr renommierten Produzenten Fabian Zimmermann/ Hafen Studios zusammengetan, um alle Ideen bestmöglich umzusetzen. "Ohne jeglichen Druck, aber trotzdem mit einem hohen Anspruch an sich selbst, hat sich GINGER RED in einem frischen, klaren Album verewigt, welches die High-End Gitarrenriffs perfekt mit den melodischen Hooklines und dazu passenden Texten kombiniert." führt der Bandgründer weiter aus. Entstanden sind 10 Songs voller Spielfreude und Rockfeeling, die durch etliche Gastmusiker noch verfeinert werden. Dazu zählen Chris Green (TYKETTO), Manni Schmidt (REFUGE), Mattias IA Eklundh (FREAK KITCHEN) oder auch Frank Pané (BONFIRE, SAINTED SINNERS).
Darüber ist die Band sehr glücklich: ,,Für uns ist das vor der VÖ schon eine gewaltige Anerkennung, dass diese überragenden Künstler auf unserem Album teilgenommen haben. Wir nehmen das nicht selbstverständlich und sind sehr dankbar.''
Wenn man nachfragt wie sich die Band selbst einordnen würde, bekommt man die Antwort: "Nostylisch"! (eine Mischung aus nostalgisch und stylisch). Man darf gespannt sein!
——————————————-
On their new album "Donuts And Coffee" GINGER RED stand for fresh and cheeky rock with fat riffs, grooving rhythms and catchy hooklines. The high demand on their own music has often made the band's motto "Good things take time": after ist ounding in 2006, the debut album "Hard As A Rock" was released in 2010, followed by a tour with the PRETTY MAIDS and various other concerts , From this era, only guitarist and band founder Tom Weise is left and so it took another few years until a new cast was found, which could fulfill the high musical goals.
"We wanted to make some things fresh but do not deny the origin of GINGER RED," says Tom Weise.
GINGER RED – with the charismatic singer "Chantal Jansen" and a liveexperienced band wants to show one thing above all live and in the studio: the friends at "Ginger-Rock"!
In addition, they have teamed up with the very renowned producer Fabian Zimmermann / Hafen Studios to implement all the ideas in the best possible way. "Without any pressure, but nevertheless with a high demand on itself, GINGER RED has immortalized itself in a fresh, clear album, which perfectly combines the high-end guitar riffs with the melodic hooklines and matching lyrics." Continues the band's founder , the result is 10 songs full of enthusiasm and rock feeling, which are refined by several guest musicians. These include Chris Green (TYKETTO), Manni Schmidt (REFUGE), Mattias IA Eklundh (FREAK KITCHEN) and Frank Pané (BONFIRE, SAINTED SINNERS).
The band is very happy about that: "For us, this is a tremendous recognition in front of the release that these outstanding artists have participated in our album. We do not take it for granted and we are very grateful. "
If you ask how the band would classify themselves, you get the answer: "Nostylisch"! (a mixture of nostalgic and stylish). You can be curious!
Tracklist "Donuts And Coffee":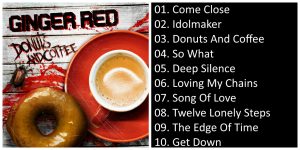 GINGER RED sind/are:
Chantal Jansen Vocals
Tom Weise Guitar
Jörg Waldi Bracht Guitar
Michael Stein Drums
Jay Woodman Bass
Gastmusiker/

guest musicians

:
Mattias IA Eklundh (Freak Kitchen)
Manni Schmidt (Refuge)
Martin Miller (Solo)
Chris Green (Tyketto)
Frank Panè (Bonfire, Sainted Sinners)
Ronnie Parkes (Bonfire)
Michael Brettner (Übermutter)
GINGER RED Link:
https://www.facebook.com/gingerredofficial/
https://www.youtube.com/channel/UCgLhmPkaWIxPnmu5OYb_rtg/featured?view_as=subscriber