… das ultimative Kick-Ass-Special-Event…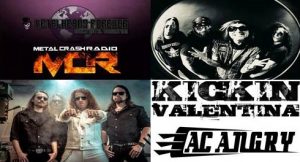 ::: english below :::
Das lange Warten hat ein Ende. Unsere Supportband KICKIN VALENTINA kehren nach Deutschland zurück und werden mit ihren Live-Acts das Herz eines jeden höher schlagen lassen, der auf puren, lauten und dreisten Rock 'n' Roll steht. Am 23. Mai 2019 wird es dann sogar "kick ass" Rock 'n' Roll im Doppelpack geben. Denn unsere Jungs aus Atlanta werden als Special Guest, in der A.C.H. Eventhalle Zweibrücken, AC ANGRY begrüßen.
Wer AC ANGRY noch nicht kennt, hat absolut etwas verpasst. AC ANGRY stammen aus Saarbrücken und sind vier Musiker mit einer Philosophie: "Arsch treten!" Ihr Erstwerk aus dem Jahr 2013 "Black Denim" sorgte für großes Interesse bei Fans und Medien. Das Album platzierte sich prompt auf Platz 1 der Amazon-Download-Charts und legte die Grundlage für umjubelte Konzerte unter anderem mit Saxon, Airbourne oder Black Label Society. Mit "Appetite For Erection" schlugen AC ANGRY in 2016  das zweite Kapitel einer vielversprechenden Laufbahn auf und dokumentieren mit dem Album ihren unbedingten Willen, weiter zu wachsen und sich neuen Herausforderungen zu stellen.
KICKIN VALENTINA & AC ANGRY sind 2 x 4 = 8 hammergeile Rockmusiker, die ihr Handwerk verstehen und mit Sicherheit die Könige im Arschtreten sind. Dieses Doppelpaket an einem Abend erleben zu können ist ein einzigartiges Event.
Tickets gibt es über die A.C.H. Eventhalle oder an der Abendkasse.
Die aktuellen Tour-Daten von KICKIN VALENTINA findet ihr unten.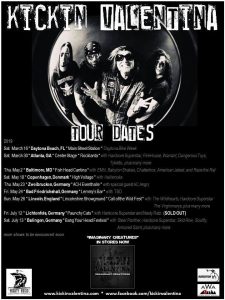 The long wait ends. Our support band KICKIN VALENTINA return to Germany and their live acts will make the heart beat of anyone who likes pure, loud and brazenly rock 'n' roll. On May 23, 2019, there will even be "kick ass" rock'n'roll in a double pack. Because our guys from Atlanta will be welcomed AC ANGRY, as special guest, in the A.C.H. Eventhalle in Zweibrücken.
Anyone who does not know AC ANGRY has absolutely missed something. AC ANGRY are from Saarbrücken and are four musicians with one philosophy: "kick ass!" Their first work from 2013 "Black Denim" caused a lot of interest among fans and the media. The album promptly placed in No. 1 on the Amazon download charts and laid the foundation for acclaimed concerts, including with Saxon, Airbourne or Black Label Society. With "Appetite For Erection", AC ANGRY opened the second chapter of a promising career in 2016 and document with the album their unconditional will to continue to grow and face new challenges.
KICKIN VALENTINA & AC ANGRY are 2 x 4 = 8 awesome rock musicians who understand their craft and are sure to be the kings in the ass kicking. Being able to experience this double package in one evening is a unique event.
Tickets are available through the A.C.H. Eventhalle or at the box office.
The current tour data of KICKIN VALENTINA can be found above.
Check out the current album of KICKIN VALENTINA here:
https://itunes.apple.com/us/album/imaginary-creatures/1236202228
Links:
https://www.facebook.com/KickinValentina/
https://www.facebook.com/acangry/