Album: Imaginary Creatures
Label: Mighty Music
VÖ: 11. August 2017
Genre: Rock 'n' Roll
MCR Reviewer: Pep Si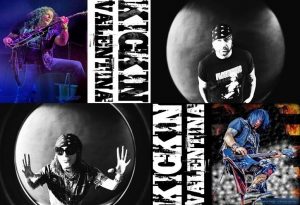 ::: english below :::
Die Hard-Rock-Band KICKIN VALENTINA, 2013 in Atlanta/Georgia gegründet, hat nach der EP "Kickin' Valentina" (2013) und dem Album "Super Atomic" (2015) mit "Imaginary Creatures" (2017) ihr drittes Werk am Start.
Die erste Nummer geht gleich in die Vollen. "Eyes" ist ein geiler Hardrock-Song…fette Drums, cooler Bass und knallharte Gitarrenriffs. Das Intro hat was von "Detroit Rock City" von KISS (Auto starten, Radio an, Gas geben…), cool.
"Turns Me On", "Devil's Hand" und "Eat n' Run" stehen dem Opener in Härte und Tempo in nichts nach. Mit "Crazy" folgt eine absolute "Gänsehaut-Power-Ballade", die richtig reinhaut. "Street" beginnt mit einem Hammer Bass-Intro von Chris Taylor und bringt das Album wieder auf die "fast lane". Bei "Roll Ya One" geht die Post ab, "Heartbreak" drückt nochmals gehörig auf die Tube bevor das für mich Beste Cover der Elvis-Nummer "Burning Love" noch eins draufsetzt.
Den Abschluss dieses hervorragenden Hard-Rock-Albums macht der Titelsong "Imaginary Creatures", der nochmal richtig abgeht.
KICKIN VALENTINA wurden für das Bang Your Head Festival 2019 bestätigt. Eine Gelegenheit, die jeder nutzen sollte, um diesen "kick ass" Sound hautnah zu erleben.
Müsste ich zwei Songs auswählen, würde ich mich für "Crazy" und "Burning Love" entscheiden…ich finde das "Elvis- Cover" einfach geil…das aber nur am Rande.
Für mich 10 von 10 Punkten… ist halt meine Mucke.
Punkte: 10/10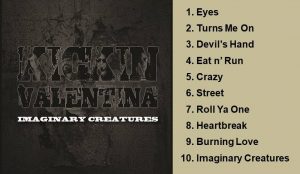 KICKIN VALENTINA, a Hard-Rock-Band founded 2013 in Atlanta/Georgia released their album "Imaginary Creatures" in 2017. It's their 3rd compilation after the EP "Kickin' Valentina" (2013) and the album "Super Atomic" (2015).
The first track immediately kicks ass. "Eyes" is a bad ass Hard-Rock-Song…heavy drums, cool bass and killer guitar riffs. The intro reminds me of "Detroit Rock City" from KISS (starting the car, radio on, throttle…), cool.
"Turns Me On", "Devil's Hand" and "Eat n' Run" are of the same kind and really awesome. The following song is the outstanding power ballad "Crazy"… goosebumps. "Street" starts with a very cool bass intro by Chris Taylor and puts the album back to the fast lane. "Roll Ya One" kicks ass, "Heartbreak" fires up and the following one takes it to the top. It's the best Elvis cover song I've ever heard… "Burning Love", love it.
"Imaginary Creatures", the title giving track completes this great album.
KICKIN VALENTINA have been confirmed for the 2019 Bang Your Head Festival. An opportunity that everyone should use to experience this kick ass sound up close.
If I'd have to pick two songs it would be "Crazy" and " Burning Love"… I love this cover song… but that's just a side note.
For me 10 out of 10 points… it's my sound.
Points: 10/10