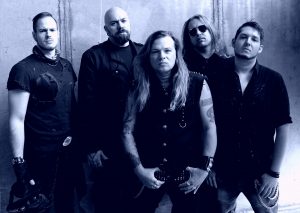 SpiteFuel ist eine deutsche Heavy Rock Band aus dem süddeutschen Raum (Heilbronn). Stilistisch bewegt man sich zwischen klassischen Metal und Hard Rock, indem gekonnt Härte und Melodie zu einer authentischen Symbiose gebracht werden.
2016 gegründet aus den Ex-Strangelet Mitgliedern Stefan Zörner, Tobias Eurich und Finn Janetzky sowie den Ex-Devil´s Darling Musikern Timo Pflüger und Björn Hessenmüller, unterschrieben die 5 Musiker einen Deal bei MDD Records und veröffentlichten im Dezember 2016 eine EP (SLEEPING WITH WOLVES) sowie im April 2017 ein Album (SECOND TO NONE), welches weltweit (wie schon die Strangelet CD "First Bite" 2015 zuvor) für euphorische Reaktionen gesorgt hat.
Ebenso übernahm Matthias Lüönd den Posten am Bass.
Durch starke Gitarrenklänge, virtuose Solos, treibende Drums und den variablen Gesang Stefan Zörners (der auch schon für Lanfear mehrere CD´s eingesungen hat), sowie leidenschaftlich mitreißende Live Shows im In- und Ausland (u.a. mit Battle Beast, Night Demon, Tygers Of Pan Tang, Steelwing, Primal Fear, Kissin´ Dynamite, Almanac, Nitrogods uvm.) ist noch einiges von SpiteFuel auf dem Metal-Sektor zu erwarten!
Bereits im Dezember 2017 entert die Band erneut das Gernhart Studio, um mit DREAMWORLD COLAPSE den Nachfolger des 2017er-Albums einzuspielen, Release wird über MDD Records im April/Mai 2018 sein!
SpiteFuel is a Heavy Rock Band from southern Germany (Heilbronn).
 The band was founded in 2016 by the ex-Strangelet-Members Stefan Zörner, Tobias Eurich and Finn Janetzky with Timo Pflüger and Björn Hessenmüller from Devil´s Darling.  
The five musicians signed in April 2016 a deal with MDD Redords and released in December a single (SLEEPING WITH WOLVES). In April 2017 the first full length CD SECOND TO NONE was released and earned worldwide great reactions.
Matthias Lüönd joined the band as new bass-player and new shows were confirmed.
 Due to powerful Guitars, Drums, the singing of Stefan Zörner (who sang also in Lanfear) and energetic performances live SpiteFuel will rock the stages!
Facebook: https://www.facebook.com/Spitefuel/
Homepage: http://www.spitefuel.de/