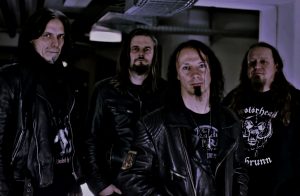 Teeth of Lamb is new and it is metal. The Band, featuring frontman and guitarist
Wolf J. , was recently founded in october 2016. The members were quickly found
in Claus Mc Hegan on drums and Wolfman Black on baseguitar . TOL´s sound is a
mix of modern speed and melodic thrash metal combined with classical guitar
acrobatics, awsome drumming and agressive vocals. Songwriting and
recordings for the first CD are in progress. In June ´17 the demo "Termination
World" was released wich was already mentioned in the Deaf Forever magazine.
Also Mr. Pete Glesga on the second sixstring joined the band. The selfetiteled 4-
track EP is coming up in January 2018 and Teeth Of Lamb starts playing live at f.e.
Metal Night Vol.II Festival and Metal Francona Festival.
Teeth Of Lamb ist die neue Band um Gitarrist und Frontmann Wolf J. . Erst im
Oktober 2016 gegründet, fanden sich schnell an den Drums Clause Mc Hegan
und Wolfman Black am Bass. Der Sound von Teeth Of Lamb ist ein Mix aus
modernem Speed und melodischem Thrash Metal in Kombination mit
Gitarrenakrobatik der klassischen Metalart, genialem Drumming und
aggressiven Vocals. Das im Juni 2017 veröffentlichte Demo "Termination World"
fand bereits Erwähnung im Demo-Check des Deaf Forever Magazins. Als zweiter
Gitarrist stieß Pete Glesga Ende 2017 zur Band. Im Januar 2018 erscheint die
selbstbetitelte 4-Track EP und die Band startet ihre Livepräsenz, u.a. beim Metal
Night Vol.II Festival und Metal Franconia Festival.
Facebook: https://www.facebook.com/teethoflamb/
Homepage: http://teethoflamb.com/