::: english below :::
Die 27-jährige türkische Heavy-Metal-Band Knight Errant (ihr Debütalbum KE wurde 1999 und Divan 2005 veröffentlicht), bekannt für ihre einzigartige Mischung von Geige gegenüber harter melodischer Musik, feiert ihr Comeback mit ihrem dritten Studioalbum in digitaler. Das Erscheinungsdatum, der 25. Juni, unterstreicht symbolisch das Gründungsdatum der Band im Jahr 1993.
Der gesamte Aufnahme-, Misch- und Mastering-Prozess dauerte 8 Jahre, manche Songs sind sogar älter und einige Musiker haben sich in dieser Zeit verändert. Der Titel "Ruhların Büyük Göçü / The Grand Migration of Souls" ist dieser Tatsache geschuldet. Das Album enthält türkische und englische Texte sowie zwei kürzere Instrumental-Songs. Die Produzenten sind wie bei Divan immer noch die Band selbst. Das Aufnehmen, Mischen und Mastern wurde von Barbaros Bensoy (Spongebarb Studios, Eindhoven) durchgeführt. Das Cover-Artwork gehört Özlem Arslanoğlu, einem sehr talentierten und erfolgreichen Grafik- und Animationskünstler der jüngeren Generation.
Knight Errant sind: Murat Arslanoğlu (Schlagzeug), Ali Ulupınar, Barbaros Bensoy (Gitarre), Deniz Turan (Bass), Ilgın Ayık (Violine), Uluer Emre Özdil, Barbaros Bensoy (Gesang).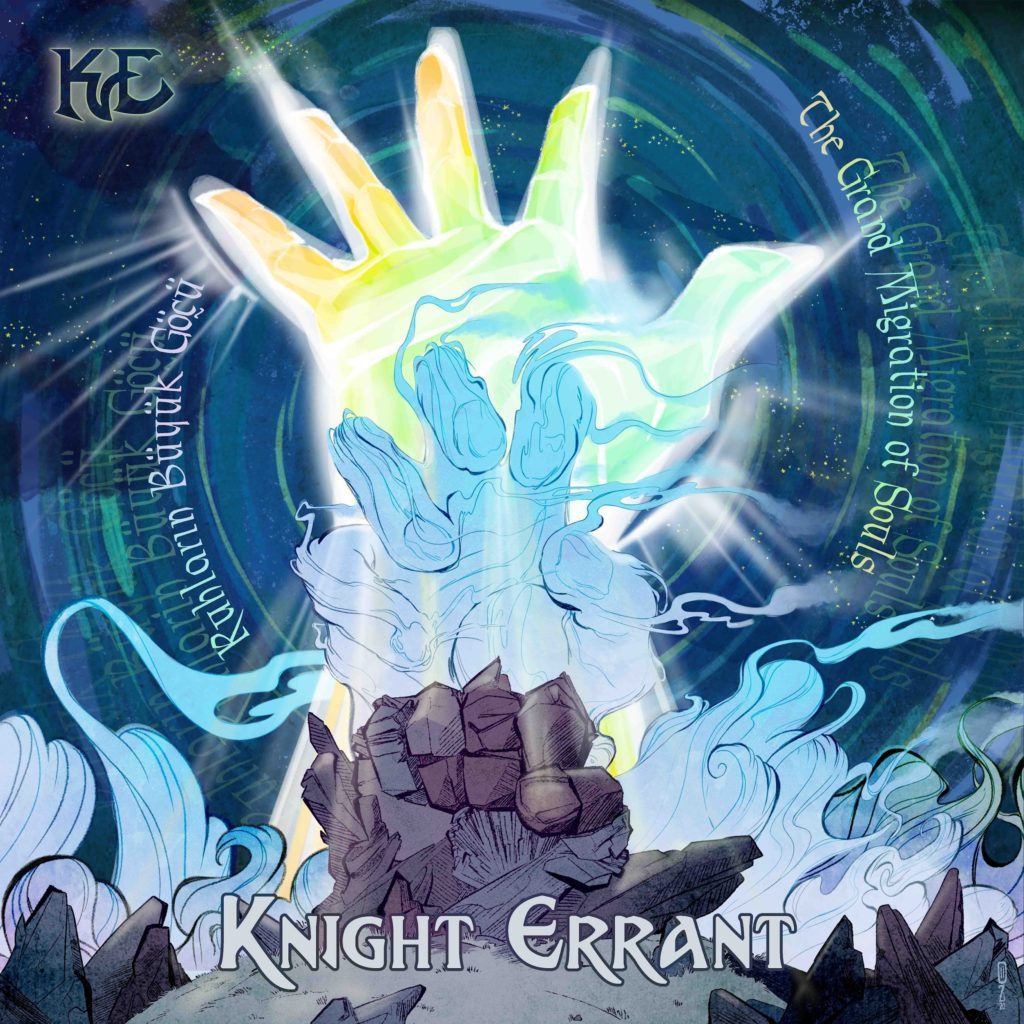 The 27-year-old Turkish heavy metal band Knight Errant (their debut album KE was released in 1999, and Divan in 2005), known for their violin's attitude towards hard melodic music, is making their comeback with their third studio album, in digital music platforms. The release date, 25 June, symbolically emphasizes the founding date of the band back in 1993.
The whole recording, mixing and mastering process is stretched back 8 years, the songs even longer, and many musicians have changed during this time. The title "Ruhların Büyük Göçü / The Grand Migration of Souls" points to this fact. The album contains Turkish and English lyrics as well as two shorter instrumental songs. The producers, as with Divan, are still the band itself, recording, mixing and mastering was done by Barbaros Bensoy (Spongebarb Studios, Eindhoven). The cover artwork belongs to Özlem Arslanoğlu, a very talented and successful graphic and animation artist among the younger generation.
Knight Errant are: drums: Murat Arslanoğlu, guitar: Ali Ulupınar, Barbaros Bensoy, bass: Deniz Turan, violin: Ilgın Ayık, vocals: Uluer Emre Özdil, Barbaros Bensoy
facebook.com/KnightErrantOfficial