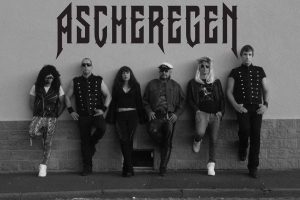 ::: english below :::
Die Band ASCHEREGEN wurde im Jahr 2017 gegründet und hat sich dem Heavy Metal der alten Schule verschrieben, den sie liebevoll auf Grund des deutschsprachigen Gesangs "Deutsches-Metall" nennen.
Musikalisch orientiert man sich an den alten Hasen des Metiers, z.B. Ozzy Osborne, Ronnie James Dio oder Accept. Besonders die Gitarrenarbeit von Kratos P. trägt dazu bei. Der Gesang des Projekts ist in deutscher Sprache gehalten und wird von der Doppelspitze Lilith Frost und Kaleun Cronos gesungen. Insbesondere die Tatsache, dass eine weilbliche und eine männliche Stimme in unterschiedlicher Gewichtung die Stücke der Band tragen, führt zu den abwechslungsreichen Linien der Band. Das Keyboard von Daniel van Helsing setzt ebenfalls Akzente, die an den Hard Rock der frühen achtziger Jahre erinnert. Gleichzeitig sorgt die Rhythmusgruppe mit Leroy Blanche und Herbert Maul dafür, dass das Ganze den richtigen Druck bekommt.
In jedem Fall zeigt sich, dass harte deutsche Musik nicht klingen muss wie Rammstein oder die Böhsen Onkelz, die der Szene ihren Stempel aufgedrückt haben und dafür sorgen, dass viele neue Bands versuchen den Stil dieser Genrebegründer nachzuahmen. Hier ist es ASCHEREGEN gelungen sich einen eigenen Stil zu bewahren und mit dem Album "Untot" harten, druckvollen Metal mit deutschen Texten zu verwirklichen.
—————————————-
The band ASCHEREGEN was founded 2017 and is oriented to oldschool Heavy Metal from the 80s. Because of the German lyrics, they call it "Deutsches-Metal" (German-steel).
The music sounds like Metalbands from the 80s and been influenced by from Ozzy Osbourne, Dio or Accept. The reason of that sound is most of all the guitar work by Kratos P. The lyrics are presented in German language by Lilith Frost and Kaleun Cronos. The female and the male voice provide for the varied sounds of the songs. Daniel van Helsing´s keyboard gives main points and represents the Hard Rock of his earlier years. The pressure is based on the drums of Leroy Blanche and Herbert Maul´s bass guitar.
In any case ASCHEREGEN does not to sound like Rammstein or Böhse Onkelz, in contrast to many new bands which try to copy their sound. ASCHEREGEN create their own style of music and present German Heavy Metal with their first album "UNTOT".
Facebook-Link: