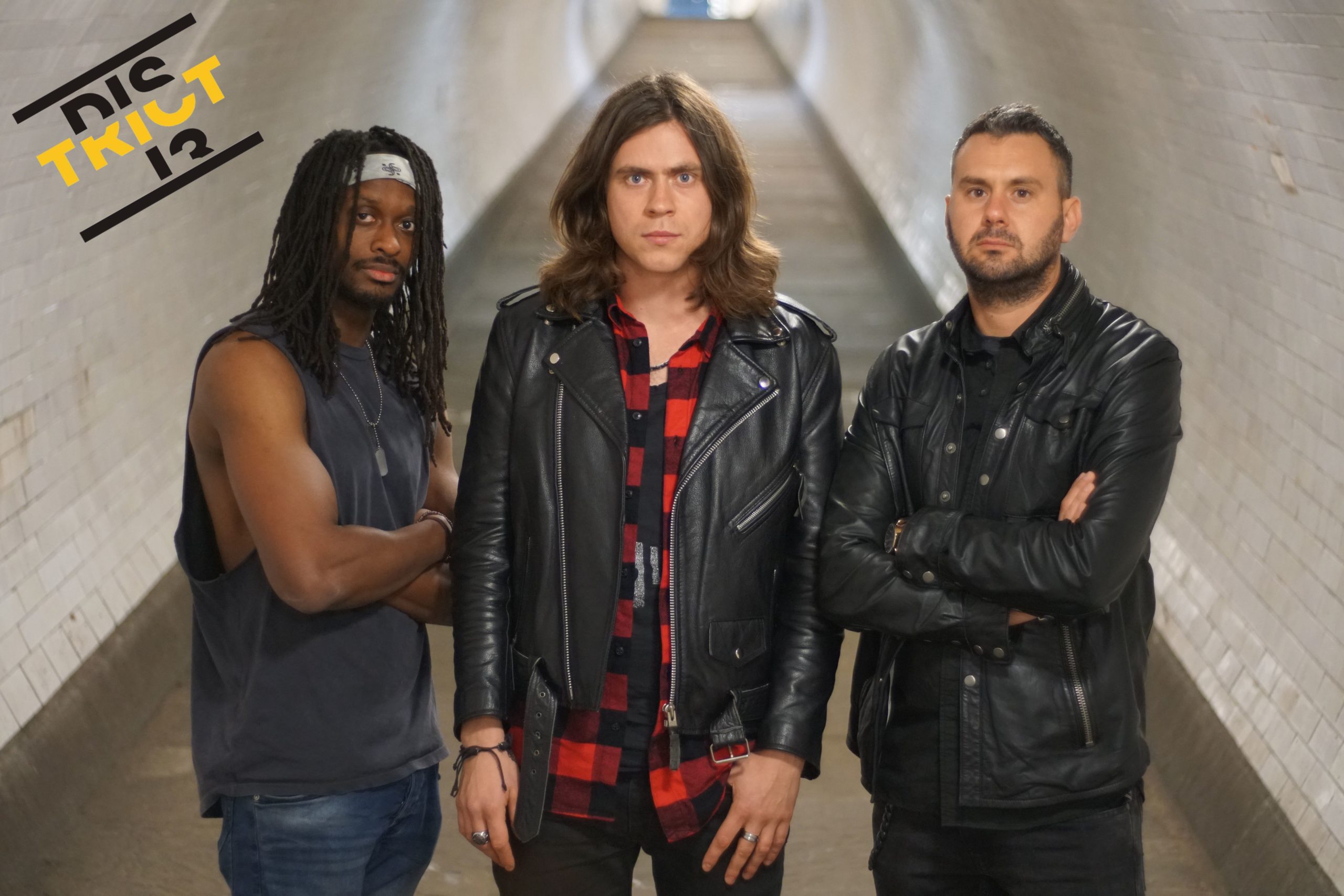 ::: english below :::
District 13 ist eine Heavy/Alternative Rockband mit Sitz in London. Die Band kam zusammen, als Asen (Schlagzeug) und Richard (Bass) eine Anzeige für einen Sänger platzierten, um ein neues Projekt zu starten. Jon (Gesang / Gitarre) bewarb sich und District 13 wurde gegründet.
Ziel von District 13 ist es, Heavy Metal und Punk zu kombinieren, um ihren eigenen einzigartigen Sound zu kreieren. Sie wurden als Kreuzung zwischen Black Sabbath und The Ramones beschrieben. Die Songs sind meistens schnell und die Band ist stolz auf eine energiegeladene Bühnenshow. Textlich bestehen die Songs aus dunklen Themen.
Die Band wird bei ihren Live-Auftritte stets positiv vom Publikum wahrgenommen. Zu einem der Höhepunkte für Distrikt 13 gehört der Auftritt beim Hills of Rock-Festival in Bulgarien im Jahr 2018 mit den Headlinern Judas Priest und Iron Maiden.
Am 15. Juli 2019 veröffentlichte die Band ihr Debütalbum – Soma. Es wurde von Georgi Stanev produziert. Ihr Album Soma wurde mit positiven Rezensionen aufgenommen und die Veröffentlichung von Soma wurde von einem Video zur Single Wild Flowers begleitet. Ihre Lieder Soma und Shadows haben online wirklich an Zugkraft gewonnen und begeistern auch während ihrer Live-Shows das Publikum.
District 13 werden immer stärker und werden in 2020 zwei neue Musikvideos veröffentlichen. Ihre Single 'Is This The Way' wurde im Film 'Yatagan' (veröffentlicht am 18.03.20) des berühmten bulgarischen Regisseurs Andrey Andonov verwendet.
Anfang 2020 hat District 13 zwei ihrer Lieder auf BBC Introducing ausgestrahlt und eine erstaunliche Resonanz von Moderatoren und Zuhörern erhalten. Die Band wurde eingeladen, im Jahr 2020 auf der Hauptbühne des Hills of Rock-Festivals in Plovdiv, Bulgarien, aufzutreten; der Headliner des Festivals ist Slipknot.
District 13 konnten bereits die Bühne mit bekannten Größen wie Iron Maiden, Sabaton, Judas Pries, Tremonti und Battle Beast teilen, um nur einige zu nennen.
Press:
DOWN THE FRONT – "Soma, ein großartiges Debütalbum, das das Potenzial dieser Band zeigt."
GigRadar – "District 13 hat mit Soma ein wirklich beeindruckendes Debüt gegeben. Wenn du auf große Riffs, super eingängige Vocals und Melodien stehst, dann ist dies die neue Rockband für dich".
A&R FACTORY – "Wir sind immer auf der Suche nach neuen Bands, die neue Energie in den Rock bringen. Und District 13 enttäuscht sicher nicht mit ihrem durchdringend dunklen, beschwörenden Alternativ-Rock-"Soma"."
District 13 are a heavy alternative rock band based in London. The band came together when Asen (Drums) and Richard (Bass) placed an advert for a singer to start a new project. Jon (Vocals/Guitar) applied and District 13 was formed.
District 13's aim to infuse Heavy Metal and Punk to create their own unique sound. They have been described as a cross between Black Sabbath and The Ramones. The songs are mostly uptempo heavy and the band prides itself on a high energy stage show. Lyrically the songs are made of dark themes.
The band have been performing live shows and have received an extremely positive reception from audiences. Highlights for District 13 include performing at the Hills of Rock festival in Bulgaria in 2018, this festival was headlined by Judas Priest and Iron Maiden.

On 15 th July 2019 the band released their debut album – Soma. It was produced by Georgi Stanev. Their album Soma has been met with positive reviews and the release of Soma is accompanied by a video for the single Wild Flowers.Their songs Soma and Shadows have gained real traction online and also continue to woo audiences during their live shows.

District 13 are going from strength to strength and are set to release two new music videos in 2020. Their single for 'Is This The Way' was featured in movie titled 'Yatagan' (released 18/03/2020) by famous Bulgarian director Andrey Andonov.
Early 2020 District 13 have had two of their songs aired on BBC Introducing and received amazing response from presenters and listeners. The band have been invited to perform main stage at the Hills of Rock Festival in Plovdiv, Bulgaria in 2020; this festival headliner is Slipknot.
District 13 have already been able to share the stage with famous names like Iron Maiden, Sabaton, Judas Pries, Tremonti and Battle Beast to name but a few.
Press:
DOWN THE FRONT – "Soma, a great debut album that shows this band's potential."
GigRadar – "District 13 have made a seriously impressive debut with Soma. If you like big riffs, super-catchy vocals and melodies then this is the new rock band for you."
A&R FACTORY – "We're always on the lookout for breaking bands who bring brand-new energy to Rock. And District 13 certainly didn't disappoint with their transfixingly dark, evocatively visceral offering of Alt Rock "Soma"."
Links: