Band: KILLCODE
Album: The Answer
Label: UNSIGNED
VÖ: 20. Februar 2018
Genre: rock/metal/southern rock
MCR Reviewer: Pep Si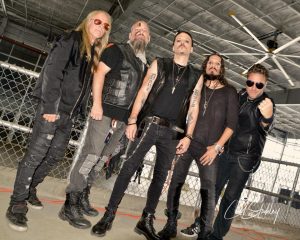 ::: english below :::
Die von Sänger/Frontmann Tom Morrissey und Gitarrist Chas in New York gegründete 5-köpfige Hard-Rock-Formation KILLCODE hat mit "The Answer" wieder ein großartiges Album abgeliefert.
Der Titelsong ist ein volles Brett und macht sofort klar wo's langgeht. Die Rhythmusabteilung Erric Bonesmith am Bass und Rob Noxious an den Drums leistet ganze Arbeit und bildet die Basis für die krassen Gitarrenriffs und geilen Harmonien der Axemen Chas und D.C. Gonzalez. On top die gewaltige Stimme von Tom Morrissey der die gesamte Palette drauf hat.
Die drei folgenden tracks "Show me", "Shot" und "Bleed" schlagen in die selbe Kerbe und stehen dem Opener in nichts nach. Die Powerballade "Own It Now" nimmt das Tempo etwas raus, mit "Kickin' and Screamin'" geht's aber gleich wieder ab. Es folgen mit "Pick your Side", "The Haunting" und "Slave" noch drei knallharte Hard-Rock-Nummern obendrauf, absolut geil.
Der würdige Abschluss ist die Ballade "Put It Off" mit Akustikgitarre und der gezähmten Röhre von Tom Morrissey, der bei diesem Song mal die sanfte Seite seiner Stimme zeigt.
Für mich ein perfektes Hard Rock Album mit allem was das Metalherz begehrt, 10 Punkte. Meine beiden persönlichen Favoriten sind "Kickin' and Screamin'" und "Put It Off", aber das nur am Rande…
Punkte: 10/10
—————————————————
KILLCODE, founded by vocalist/frontman Tom Morrissey and guitarist Chas, 5 Hard Rockers out of New York, released again a great Longplayer with "The Answer".
Title track and opener "The Answer" hits like a slap in your face and shows clearly where the journey will go. The driving sound of the rhythm section Rob Noxious on drums and Erric Bonesmith on bass build the base for the excellent riffs and double-guitar-harmonies of Chas and D.C. Gonzalez. On top of it the powerful voice of shouter Tom Morrissey putting his full potential on the plate.
"Show me", "Shot" and "Bleed", the following tracks, are the same style…awesome Hard Rock. The great power ballad "Own It Now" gives you time to rest a little bit before you get hit again by "Kickin' and Screamin'". "Pick your Side", "The Haunting" and "Slave" are bad ass… excellent Hard Rock. The final song "Put It Off" is a wonderful ballad with cool acoustic guitar parts. In addition Tom Morrissey's voice makes this track sound very special.
The album is a brilliant piece of Rock covering everything a "metal heart" desires… 10 out of 10 points. If I would have to pick 2 songs it would be "Kickin' and Screamin'" and "Put It Off"… but that's just a side note…
Points: 10/10