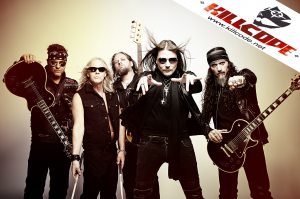 KILLCODE ist eine US-amerikanische Rockband, die aus New York kommt. Ihr einzigartiger Sound und Stil wird als Southern Infused Rock / Metal mit modernen Vocals beschrieben. KILLCODE Songs sind super geladene Hymnen mit großen Gitarren und treibenden Rhythmen, wie einen Adrenalinstoß in deinen Körper, sobald du sie hörst. Darüber hinaus haben die Jungs ein Händchen für rockige Balladen, wie beispielsweise "The Wrong Side". KILLCODE wurde von Sänger / Frontmann Tom Morrissey und Gitarrist Chas (Charles Banellis) gegründet, als sie in ihrem Studio einfach mal etwas Neues ausprobieren wollten. Als nächstes fragten sie ihren langjährigen Freund und Musikgefährten, Erric Bonesmith, ob er sie nicht mit seiner Bassgitarre unterstützen möchte. Die Position am Schlagzeug wurde mit Rob Noxious besetzt, nachdem sie sich über 50 Schlagzeuger aus dem ganzen Land angehört hatten. Etwas später haben sich die Jungs dazu entschieden die Band mit einem zweiten Gitarristen zu ergänzen. DC Gonzales, bekannt als Leadgitarrist der Rockband Panzie, hat mehr als nur gepasst. Sein Stil ergänzt das, was die Band bereits hatte und hat die Band neu belebt.
KILLCODE hat bis heute veröffentlicht: "To Die For", eine EP mit sechs Songs, eine zweite EP "Taking it All" mit sechs Songs und das selbstbetitelte Album KILLCODE. Beide E.Ps waren national sehr erfolgreich und haben weltweit die Anerkennung der Band gewonnen. Das Album "KILLCODE" wurde für eine Woche auf BILLBOARDS Mid-Atlantic Heatseekers Charts platziert.
Der Song "Breaking Away" von "Taking It All" wurde in dem inspirierenden Dokumentarfilm "DRESSED" von David Swajeski mit der Modedesignerin Nari Manivong und "6am Again", der auf beiden Debüt-EPs zu hören ist, vorgestellt. KILLCODEs neueste Veröffentlichung ist das Album "The Answer", welches die Antwort an alle Fans symbolisiert, die immer wieder fragten, was als nächstes kommt und wann.
Im Jahr 2016 arbeitete KILLCODE mit Coallier Entertainment zusammen, um ihre internationale Reichweite zu erweitern, indem die Band bei renommierten Festivals auf der ganzen Welt spielte. So performte KILLCODE, als "die Überraschungsband aus New York", beispielsweise auf großen Festival-Bühnen wie:
• Bang Your Head, Germany
• Rock of Ages, Germany
• Riverside Aarburg, Switzerland
• Rock Fest Barcelona, Spain
• Hell and Heaven Festival, Mexico
• Corona Northside Metal Meeting Festival, Mexico
• Festival Guitare en Scène, Frankreich
• Hard Rock Hell Festival, U.K.
• Hard Rock Hell Awards, U.K.
KILLCODE zeigen keine Anzeichen von Verlangsamung. KILLCODE sind bereit und in der Lage, ihren Platz neben den größten Rock-Acts zu finden.
Das ist erst der Anfang ….
::: SPRAD THE CODE :::
---
Presse:
"Review – Killcode – The Answer – 10 out of 10 points, as it is simply an amazing varied album."
Marc Debus – http://www.promoportal-germany.net
"They release an energy that most bands lost or do not bring with them…Groove, Energy, Power, Hook lines and Melodies. What more could you want? – Rating: 9 out of 10"
Steve Burdelak – Crossfire Metal Webzine
"New Yorkers  KILLCODE have been a true revelation to us. We caught them for the first time in France at a festival opening for TWISTED SISTER. This 5 piece band from the states really impressed us with a show full of raw energy and feeling. A dirty raw attitude, that takes from the street a hard rock sound with a mix of southern rock, blues and metal."
Fabio Magliano – Metal Hammer Italy
FACEBOOK:  https://www.facebook.com/killcodegermany/
FACEBOOK: https://www.facebook.com/KillcodeOfficial/
HOMEPAGE: http://killcode.net/