Artist: Craig Siegelbaum
Country: Suffolk County, New York, USA
Album/EP: Alliance II
Released: September 2020
Review by: PepSi (Juergen Lang)
Editor: T-Bou
::: english below :::
Die EP ALLIANCE II wurde von David Caggiano gemischt, alle Songs von Craig Siegelbaum gemastert, außer SOMETHING REAL der von Emily Lazar (The Lounge, NYC) gemastert wurde.
Der amerikanische Komponist, Produzent und Multi-Instrumentalist (Gitarre, Piano, Bass, Synthesizer) Craig Siegelbaum hat mit ALLIANCE II eine kleine, feine EP zusammengestellt. Das im September 2020 veröffentlichte Werk ist in Zusammenarbeit mit den unten aufgeführten Musikern entstanden. Es ist, nach ALLIANCE aus dem Jahr 2012, das zweite Projekt dieser Art. Für mich war es das reinste Vergnügen, die 4 Songs umfassende EP durchzuhören. Genau genommen sind es 5 Tracks, wobei ich das allseits bekannte THE STARS-SPANGLED BANNER, umgesetzt als gut 1-minütiges Gitarren-Instrumental, eher als "Appetizer" betrachte.
Text und Gesang für THE RED SEA hat Ehefrau und Musikerin Gina Cutillo beigesteuert – ein richtig cooler Rocksong (darum ist er auch bei MCR in der Rotation…), der einen sofort mitnimmt und Laune auf mehr macht.
BEST OF DAYS, getextet und gesungen von Ed Spahn, ist getragen von satten Drums und mit astrein ausgeführten Gitarrenparts verziert. Der Leadsänger von HALF CIRCLE DRIVE, PSICK und Leadsänger/Keyboarder von ROCKSTARS FROM MARS hat hier sehr gute Arbeit abgeliefert.
Der nächste in der Gruppe der Gastmusiker ist der umtriebige Scott Oliva, der für NO ONE TO BLAME sowohl "die richtigen Worte gefunden hat" als auch die Vocals beisteuert. Das Stück ist reinster Metal, knallt richtig und lässt keine Wünsche offen. Vom unaufhörlich treibenden "Drum-Gewitter" angefangen, über geile Gitarrenriffs bis hin zum "kraftvoll-dreckigen" Gesang. Scott ist seit Mitte der 80er "im Geschäft" und war sitdem bei Bands wie DERANGED, LAST VISION BLACK, MONDAY KNIGHTS, SCOTT MOSHER und WIND WRAITH tätig. Aktuell ist er Leadsänger der IRON MAIDEN-Tribute Band LIVE AFTER DEATH sowie den Formationen OCEANS OF NIGHT, REVERENCE, SINNER'S PRAYER und THE NIGHTMARE STAGE aktiv. Wie gesagt, ein "fleißiger Bursche."
Den "Rausschmeißer" dieser sehr bemerkenswerten Produktion macht SOMETHING REAL. Getextet und gesungen, wie bereits THE RED SEA, von Craigs Frau Gina Cutillo. Ein rundherum gelungenes Stück Rockmusik, bei dem Gina auch die zweite Gitarre übernommen hat.
Craig Siegelbaum hat 4 starke Songs komponiert, die von den Gastmusikern bestens komplettier wurden – hat mir sehr viel Freude bereitet. Das einzige, was mich davon abhält 10 Punkte zu vergeben ist die "zigste" Version von THE STAR-SPANGLED BANNER, die ich nicht gebraucht und stattdessen dafür lieber noch einen "echten" 5. Song gehört hätte. Deshalb gibt es von mir 9 von 10 Punkte. Das war's, mehr habe ich nicht zu sagen, ausser, dass ich die EP nur wärmstens empfehlen kann.
Punkte: 9/10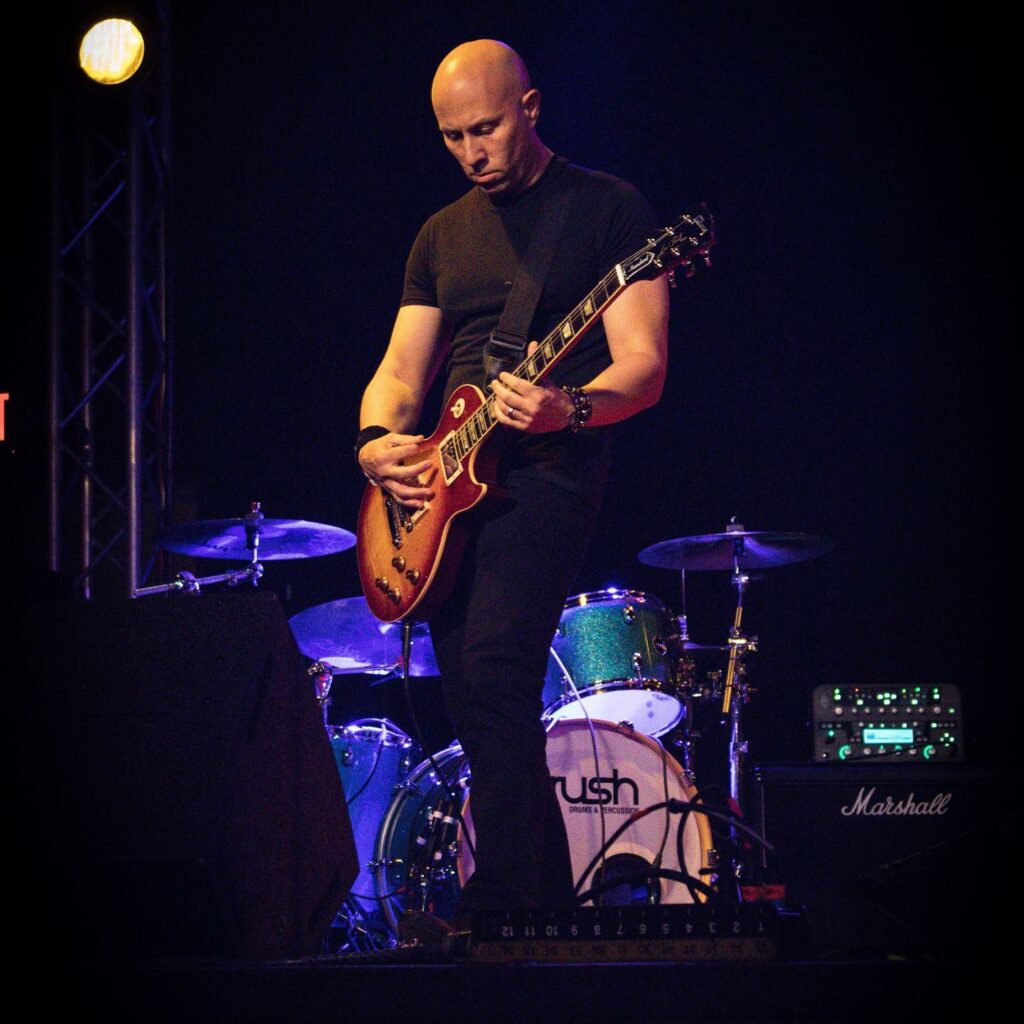 The EP was mixed by David Caggiano, all songs mastered by Craig Siegelbaum, except for SOMETHING REAL which was mastered by Emily Lazar (The Lounge, NYC).
The American composer, producer and multi-instrumentalist (guitar, piano, bass, synthesizer) Craig Siegelbaum has put together a small, fine EP with ALLIANCE II. The compilation, published in September 2020, was created in collaboration with the musicians listed below. After ALLIANCE in 2012, it is the second project of this kind. For me it was a sheer pleasure to listen to the 4-Track EP. Basically there are 5 tracks, whereby I regard the well-known THE STARS-SPANGLED BANNER, performed as guitar instrumental, more as an "appetizer".
Wife and musician Gina Cutillo contributed the lyrics and vocals for THE RED SEA – a cool rock song (that's why it's on our rotation on MCR …) that immediately takes you away and puts you in the mood for more.
BEST OF DAYS, texted and sung by Ed Spahn, is carried by rich drums; decorated with perfectly executed guitar parts. The lead singer from HALF CIRCLE DRIVE, PSICK and lead singer / keyboard player from ROCKSTARS FROM MARS did a very good job here.
The next one in the group of guest musicians is Scott Oliva, who wrote the lyrics for NO ONE TO BLAME as well as doing the vocals. This track is pure metal, hard and heavy, no compromises. Driving drums, awesome guitar riffs and powerful vocals. Scott has been into Rock and Metal since the mid-80s. He worked for bands like DERANGED, LAST VISION BLACK, MONDAY KNIGHTS, SCOTT MOSHER and WIND WRAITH. Currently he's lead singer of the IRON MAIDEN tribute band LIVE AFTER DEATH as well as the bands OCEANS OF NIGHT, REVERENCE, SINNER'S PRAYER and THE NIGHTMARE STAGE. As I said, a "hardworking fellow."
SOMETHING REAL is the closing song of this great and remarkable production. Lyrics and vocals again by Craig's wife Gina Cutillo. An amazing piece of rock music, in which Gina also took over the second guitar.
Craig Siegelbaum composed 4 pretty awesome tracks, perfectly completed by the guest musicians – gave me a lot of pleasure. The only thing that keeps me from giving 10 points is the "umpteen" version of THE STAR-SPANGLED BANNER. I'd prefer a "real" 5th song. Therefore from me 9 out of 10 points. That's it, nothing more to say, except I strongly recommend this EP.
Points: 9/10
Cast / Credits:
Craig Siegelbaum                                                                                
Guitar, Bass, Drums Programming
Gina Cutillo                                                                                                 
Lyrics / Vocals for THE RED SEA                                                              
Lyrics / Vocals / 2nd Guitar for SOMETHING REAL
Ed Spahn                                                                                                   
Lyrics / Vocals for BEST OF DAYS
Scott Oliva                                                                                                 
Lyrics / Vocals for NO ONE TO BLAME
Steven Rivera                                                                                        
Bass on NO ONE TO BLAME                                                                      
EP Graphic Design