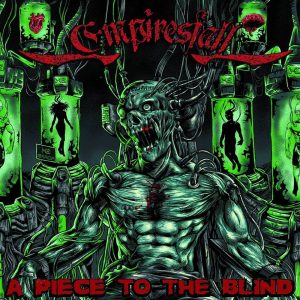 Band: Empiresfall
Album: A Piece to the Blind
Genre: Thrash Metal / Hard Rock
Label: Pure Steel Records
VÖ: 02.03.2018
Geschrieben von Beardy
Empiresfall : A Piece to the Blind
Franky Chighetti – Vocals, Guitar, Alex "Mad" Bam – Guitar , Dennis Gundelach – Bass und Nico Steffens – Drums formerly known as Empiresfall hauen mit dem 2018ner Output ein echtes Undergroundthrashjuwelchen raus. Thrash steht für schnelle Gitarren mit harten Riffs , stampfenden Drums und treibenden Bass gepaart mit relativ hohen Geschreie a la Lost Society (geil)… nicht so bei Empirefall ; hier ist mal eine Stimme angesiedelt die man im Thrash nicht so oft zu hören bekommt aber die sich gerade deswegen schnell im Mittelohr einnistet. 2008 nach der Gründung folgte das Demo "Place of Pain" und 2014 der erste Longplayer "Riot" folgte ist "A Piece to the Blind" der zweite vollwertige Longplayer von Empiresfall. Den Thrasher erwartet gut gepielter Midtempo Thrash (Wasteland) in Symbiose mit typischen Thrashriffs (Betrayers); alles solide gespielt und gut produziert. Empiresfall wissen die melodischen Giddars ( A Piece To The Blind)schön tight aufzuspielen und der Fan der so etwas mag wird mit dieser Scheibe sehr glücklich werden. Die Scheibe wartet mit gut 29 Minuten Spielzeit auf und man hätte eventuell noch Platz für einen Obulus gehabt aber Fans des Genres werden hier gut unterhalten.
5 von 8 Hörner werden hier für eine gut produzierte Thrash-Scheibe hochgehalten. Der Undergroundliebhaber wird seinen seine Matte bei "A Piece to the Blind" oft und gerne schütteln.
PUNKTE: 5/8
_______________________________________