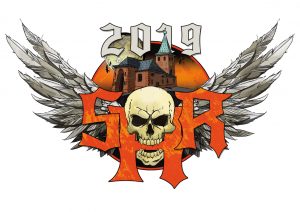 ::: english below :::
Unser Partner, das SICKING HIGH ROCK FESTIVAL, ist ein familiäres Festival mit Herz und einem fairen Veranstalter, der jedes seiner Festivals mit sehr viel Liebe vorbereitet und gestaltet. Fairness, die Liebe für Rock & Metal und Bands helfen zu können, verbindet uns – darum ist Metal Crash Radio sehr stolz über diese Partnerschaft. SICKING HIGH ROCK FESTIVAL – ein Festival bei dem die Bands zum Anfassen sind – im wahrsten Sinne des Wortes. Und ein Festival, welches jedes Jahr 1€ je verkauftem Ticket an einen wohltätigen Zweck spendet. So konnten im Jahr 2017 zum Beispiel 1000€ an die Stiftung "Papa/Mama hat Krebs" übergeben werden und im Jahr 2018 wurde der Kindergarten in Weselberg unterstützt.
Am Samstag, den 22.06.2019 ist es wieder soweit und das SICKING HIGH ROCK FESTIVAL geht in die vierte Runde. Also los geht's und schnell noch ein Ticket sichern:
http://www.sicking-high-rock.de/Tickets/tickets.html
In 2019 wird Deutschlands gefährlichste Rock´n´Roll Waffe DOUBLE CRUSH SYNDROME als Headliner spielen. Bereits vor zwei Jahren haben die Jungs um Andy Brings (Ex.Sodom) die Stage in Schutt und Asche zerlegt. Desweiteren sind dabei die Hardrocker Stop Stop aus Birmingham, die  Melodic Metaller EMERALD aus der Schweiz, JUNKYARD DRIVE aus Dänemark,  female fronted Band LICENCE aus Ludwigsburg sowie die geballte Heavy Metal Power BAD BUTLER aus Saarbrücken.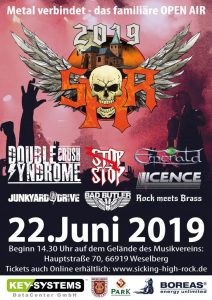 Die Entstehungsgeschichte eines kleinen, aber sehr feinen Festivals – SICKING HIGH ROCK in der wunderschönen Südwestpfalz zu Weselberg, persönlich erzählt vom Veranstalter, Matthias Luly Walz, erfahrt ihr hier…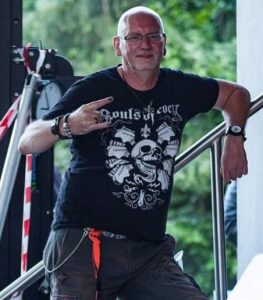 "Im Herbst 2015 ging es im Hause Walz darum eine geeignete Location für Luly's 50. Geburtstag zu finden. Schnell war klar wir mieten uns in die Musikhalle ein. Dort kann man die große Halle mieten oder das Nebenzimmer. Da meine Frau zwar die Halle kannte, jedoch nicht das Nebenzimmer ging es freitags abends hoch zur Besichtigung der Räume.
Meine Frau merkte ganz schnell, dass der Platz des Nebenzimmers wohl nicht ausreicht. Auf dem Weg aus der Halle ergab sich noch ein small talk mit Ralf und Reinhold vom Musikverein Laetitia Weselberg e.V., die von der Probe noch da waren. Dabei erzählte ich, dass wir letzte Woche mit der Band CROWN OF GLORY aus der Schweiz ein paar Tage auf Tour waren.
Darauf sagte Reinhold den alles entscheidenden Satz "Luly, wenn du doch so viele Connections hast, könntest du doch mal ein Rock Konzert organisieren, wir haben ja da draußen unsere selbstgebaute, riesen Bühne, die nur einmal im Jahr zum Gartenfest genutzt wird, um Blaskapellen auftreten zu lassen". Dieser Gedanke lies mich über's Wochenende einfach nicht los. Es war mir aber auch klar, dass wenn eine Band spielt der Aufwand und die Kosten viel zu hoch sind, um das zu realisieren. Also entstand die Idee eines Festivals. Zuerst schrieb ich Markus Muther von CROWN OF GLORY an und erzählte ihm von der Idee und ob CROWN OF GLORY bereit wäre den Headliner zu machen. Markus war direkt begeistert und hat zugesagt. Jetzt hieß es noch zusätzliche Bands zu bekommen. Also schrieb ich MIDNIGHT SKY, die ich von der Tour mit CROWN OF GLORY kannte, an -Zusage- danach war mein Freund Frank Beck dran mit RED RAVEN – Zusage. Es lief. Innerhalb von 30 Minuten hatte ich drei Bands. Jetzt war MIKE GERHOLD dran den ich in Fritzlar bei Rock am Stück gesehen hatte und begeistert war. Ihn kannte ich nur von Facebook, aber auch er hat spontan zugesagt (auch gleich, um an meinem 50. Geburtstag im Dezember zu spielen). So, vier Bands hatten wir schon mal in 60 Minuten. Für den Anfang dachte ich fünf wären OK. Also musste noch eine her, am besten aus der Heimat. Über Facebook einen Aufruf gestartet, wer Bock hätte und der Gewinner war THE WATCHING. Das Line Up in 2016 zum ersten Festival in Weselberg war komplett."
Facebook: https://www.facebook.com/SickingHighRock/
Website: http://www.sicking-high-rock.de/index.html
———————————————
Our partner, the SICKING HIGH ROCK FESTIVAL, is a familiar festival with heart and a fair organizer who prepares and designs each of his festivals with much love. Fairness, the love for Rock & Metal and to be able to help bands, connects us – that's why Metal Crash Radio is very proud of this partnership. SICKING HIGH ROCK FESTIVAL – a festival in which bands are up close to the fans – in the truest sense of the word. And a festival that donates €1 per sold ticket to a charity every year. In 2017, for example, €1,000 was donated to the foundation "Dad/Mom has Cancer" and in 2018 the kindergarten in Weselberg was supported.
On Saturday, June 22, 2019, it's time again and the SICKING HIGH ROCK FESTIVAL enters the fourth round. So let's go and quickly secure a ticket:
http://www.sicking-high-rock.de/Tickets/tickets.html
In 2019 Germany's most dangerous rock'n'roll weapon DOUBLE CRUSH SYNDROME will play as headliner. Already two years ago, the guys around Andy Brings (Ex.Sodom) dismantled the stage to rubble. Furthermore there are the hard rockers Stop Stop from Birmingham, the melodic metallers EMERALD from Switzerland, JUNKYARD DRIVE from Denmark, female fronted band LICENCE from Ludwigsburg as well as the heavy metal power BAD BUTLER from Saarbrücken.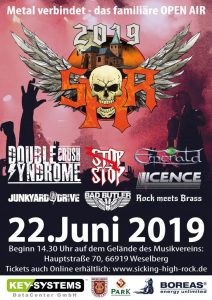 The history of a small but very fine festival – SICKING HIGH ROCK in the beautiful Südwestpfalz to Weselberg, personally told by the organizer, Matthias Luly Walz, you can find out here…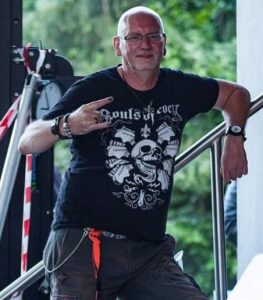 "In the fall of 2015 the Walz family wanted to find a suitable location for Luly's 50th birthday. It was clear that we will rent the music hall. There you can rent the big hall or the adjoining room. Since my wife knew the big hall, but not the adjoining room, it was on Fridays in the evening and we visit the rooms.
My wife realized very quickly that the space of the adjoining room is probably not enough. On the way out of the hall there was a small talk with Ralf and Reinhold from the Musikverein Laetitia Weselberg e.V., who were still there from the rehearsal. I said that last week we were on tour with the band CROWN OF GLORY from Switzerland for a few days.
Then Reinhold said the all-important sentence "Luly, if you have so many connections, you could organize a rock concert, we have our own giant stage out there, which is used only once a year for the garden party, where brass bands play". This thought just did not let me go over the weekend. But it was also clear to me that if only one band plays the effort and costs are far too high to realize that. So the idea of ​​a festival came into being. First I wrote to Markus Muther of CROWN OF GLORY and told him about the idea and if CROWN OF GLORY would be ready to play as a headliner. Markus was excited and said yes. Now it was time to get additional bands. So I wrote MIDNIGHT SKY, which I knew from the tour with CROWN OF GLORY – they said yes. After that, I talkes with my friend Frank Beck / RED RAVEN – they said yes. It ran. Within 30 minutes I had three bands. Now it was MIKE GERHOLD whom I had seen in Fritzlar at Rock am Stück and was thrilled about. I knew him only from Facebook, but he also spontaneously agreed (even to play on my 50th birthday in December as well). So, we already had four bands in 60 minutes. For the beginning, I thought five would be OK. So one more had to come, preferably from home. About Facebook I posted and asked who would like to play – and the winner was THE WATCHING. The line up in 2016 for the first festival in Weselberg was complete."
Facebook: https://www.facebook.com/SickingHighRock/