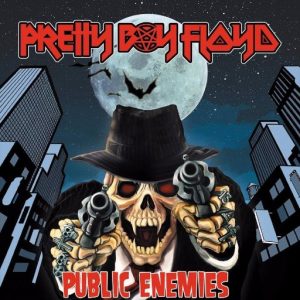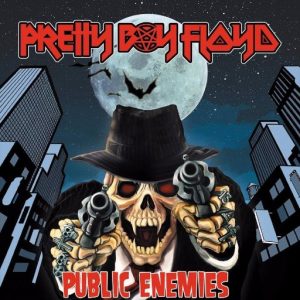 Band: Pretty Boy Floyd
Album: Puplic Enemy
Genre: Glam Metal / Hard Rock
Label: Frontier Music
Länge: 44:39
VÖ: 01.12.2017
Geschrieben von Micha
Holt Eure Spandexhosen raus, toupiert Eure Haare, denn die Jungs von Pretty Boy Floyd sind zurück und das mit einer wahnsinns Platte die Euch zurück in die 80er befördert.
Pretty Boy Floyd, eine Band aus Hollywood, gegründet von Steve Summers (Sänger) im Jahre 1987. Leider blieb der kommerzielle Erfolg aus, aber für mich einer der Besten Bands aus den 80er Jahren.
Ich war ziemlich überrascht als die Band ankündigte ein neues Album auf den Markt zu bringen, da sie in ihrer 30 jährigen Karriere gerade einmal 4 Studio und ein Kiss Tribute Album veröffentlichten.
So jetzt zum Album.
Nach dem Intro S.A.T.A was ein wenig an Leatherboys with Electric Toys errinert, geht es schon gleich mit dem ersten Song FEEL THE HEAT los. Ein Machinengewehr wird geladen, ballert los und der Song fängt an. Energie geladener Song im typischen Pretty Boy Floyd gewand. Das schöne an dem Album ist, dass die Band sich nicht versucht neu zu erfinden, sondern sich selbst und ihrer Musik treu geblieben sind. Die Platte ist zu 100% das, was man von der Band erwartet und wie man sie kennt. Ein klassisches Glam Metal Album ohne viel Schnick Schnack. Praktisch so als wäre die Band ins Studio gegangen, Mikro in die mitte und alle spielen los. Ich kann jeden empfehlen sich die Scheibe mal anzuhören, es lohnt ich auf jeden Fall!!!
!!!KLARE KAUF EMPFEHLUNG!!!
Anspieltipps: Feel The Heat, Girls All Over The World, We Can't Bring Back Yesterday, We Got The Power, Do Ya Wanna Rock… ach hört euch einfach das komplette Album an ?
PUNKTE : 9/10