Stageservice: "YOUR STAGE – YOUR MISSION"
Owner: Stephan Stroh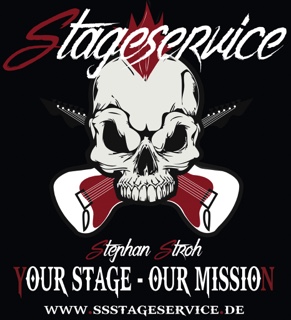 ::: english below :::
Inhaber Stephan Stroh hat sich mit dem Stageservice eine kleine aber feine Firma aufgebaut, bei der Qualität und freundschaftliche Geschäftsbeziehungen an erster Stelle stehen. Stephan ist als freier Techniker im Veranstaltungsbereich bereits seit Jahren tätig. Sein Erfahrungsschatz umfasst u.a. auch Aufträge bei bekannten Großveranstaltungen wie z.B. Rhein in Flammen, Summerbreeze-Festival, Rock of Ages, Bang Your Head sowie dem Rheingau Musikfestival und der Swiss Rock Cruise. Auch für große Arenen wie der Commerzbank Arena, SAP-Arena sowie die Alte Oper Frankfurt (um nur einige zu nennen) wurde er bereits gebucht. Doch auch eine Vielzahl von kleineren Konzerten oder Messen wurden von Stephan Stroh's Stageservice betreut. Stephan ist genau der Richtige für jeden Veranstalter – egal welcher Größenordnung und wer Unterstützung bei der Bandbetreuung oder an Merchständen usw. braucht, ist auch damit beim Stageservice an der richtigen Adresse. Sämtliche Informationen über sein gesamtes Dienstleistungspaket sowie Kontaktdaten sind auf seiner Homepage zu finden:
www.ssstageservice.de

Über sich selbst sagt Stephan Stroh folgendes:
"Warum der Job für mich mehr ist als jeder andere…
Schon im jungen Alter war ich ein riesengroßer Heavy Metal und Rock Fan. Bis heute ist es mir eine Ehre in diesem Bereich arbeiten zu dürfen. Dabei macht es für mich keinen Unterschied, ob es sich um Newcomerbands, wie Cherry Bomb, Spy Row , ALL-INN , Crashtime, Slick Rock Circus … handelt oder um größere Bands wie z.B. Mystic Prophecy und King Zebra bzw. ob es doch eine Legendenband ist, wie Saxon, Hammerfall, Gotthard … .
Für mich zählt das Gefühl, das eine Band am Ende eine geile Nummer für die Fans auf die Beine stellt und ich meinen Teil dazu beigetragen habe, dass ein Konzert zu einem Erfolg wird. Ich persönlich habe festgestellt, dass es mehr ist als nur ein Job. Einige großartige Freundschaften sind in der Zeit entstanden, die bis heute noch gepflegt werden. Am Anfang war man überwältigt, wenn man die Arbeitszusage von Summerbreeze, Rock of Ages, Bang Your Head… bekommen hat. Heute ist es nicht mehr das Festival an sich, sondern die Crews und die Bands mit denen man seit Jahren in Freundschaft zusammen arbeitet.
Ein Teil der Swiss Rock Cruise zu sein ist eine sehr große Anerkennung für mich. Eine hammergeile Crew, die in dieser schweren Zeit nicht den Kopf ins Wasser steckt, sondern weiterhin ihre Ziele verfolgt und wie eine große Familie zusammengewachsen ist. Am Ende geht es meiner Meinung nach immer nur darum, andere Menschen mit einem Konzert oder einem Festival glücklich zu machen.
Dieses Gefühl kann man nicht mit Geld kaufen und ist unbezahlbar.
Ich hoffe ich darf diesen wunderbaren und aufregenden Job noch sehr lange ausüben – Stephan Stroh – ."
Owner Stephan Stroh has built up a small but fine company with Stageservice, where quality and friendly business relationships are paramount. Stephan has been working as a freelance technician in the event sector for years. His wealth of experience includes jobs at well-known major events such as Rhein in Flammen, Summerbreeze Festival, Rock of Ages, Bang Your Head as well as the Rheingau Music Festival and the Swiss Rock Cruise. He has also been booked for large arenas such as the Commerzbank Arena, SAP-Arena as well as the Alte Oper Frankfurt (just to name a few). But also a lot of smaller concerts or fairs have been handled by Stephan Stroh's Stageservice. Stephan is exactly the right person for every organizer – no matter what size and who needs support with band support or at merch stands etc., is also with that at the right address at Stageservice. All information about his complete service package as well as contact details can be found on his homepage:
www.ssstageservice.de

Stephan Stroh says the following about himself:
"Why this job is more than any other for me…
Even at a young age I was a huge heavy metal and rock fan. Until today it is an honor for me to work in this field. It makes no difference to me if they are newcomer bands like Cherry Bomb, Spy Row , ALL-INN , Crashtime, Slick Rock Circus… or a bigger band like Mystic Prophecy and King Zebra or if it's a legendary band like Saxon, Hammerfall, Gotthard.. .
What counts for me is the feeling that in the end a band puts on a great show for the fans and that I've done my part to make a concert a success. Personally, I've found that it's more than just a job. Some great friendships were formed during that time that are still maintained to this day. In the beginning, you were overwhelmed when you got the commitment from Summerbreeze, Rock of Ages, Bang Your Head…. Today, it's no longer the festival itself, but the crews and the bands you work with for years in friendship.
Being a part of the Swiss Rock Cruise is a very big recognition for me. An awesome crew that doesn't stick its head in the water during this hard time, but continues to pursue its goals and has grown together like a big family. In the end, I think it's always about making other people happy with a concert or a festival.
This feeling cannot be bought with money and is priceless.I hope I can continue to do this wonderful and exciting job for a very long time. – Stephan Stroh – "
LINKS:
Website: https://www.ssstageservice.de/
Facebook: https://www.facebook.com/stephanstrohstageservice
phone: +49 176 6262650405
mail: stroh.s@gmx.de