Band: Marc Vanderberg
Album: Phoenix of the Ashes
Label: DarkSIGN-RECORDS
VÖ: 29.03.2019
Genre: Rock
MCR Reviewer: Pep Si
Marc Vanderberg – "Phoenix from the Ashes"
::: english below :::
Mit "Phoenix from the Ashes" hat der Gitarrenvirtuose Marc Vanderberg ein weiteres Stück feinster Rockmusik geschaffen. Mit Unterstützung einiger hervorragender Musiker ist ein geiles Album entstanden.
Der Opener "Odin's Words" beginnt zwar mit leisen Tönen mündet aber sehr schnell in ein Feuerwerk aus Drums, Keyboards und natürlich den unverwechselbaren Gittarrenparts Marc Vanderbergs. On top die einzigartige Röhre von Paulo Cuevas. Tave Wanning & Chris Divine sind, wie bei jedem Song auf diesem Album, natürlich auch mit von der Partie.
Bei "Warsong" überzeugt Philipp Meier mit absoluten Shouterqualitäten. Engängige Gitarrenharmonien gepaart mit gutem Tempo der Rhytmusfraktion, sehr geil. "Legalize Crime" ist ein cooler Rocksong bei dem Paulo Cuevas ein weiteres Mal seine Gesangsqualitäten unter Beweis stellt. Titelsong "Phoenix from the Ashes" ist ein Gesamtkunstwerk bei dem alles passt. Die Mid-Tempo-Nummer ist ein hervorragendes Paket aus virtuosen Gitarrenparts, coolen Riffs, perfektem Gesang von Oliver Monroe, Keys…einfach stark. "You and I", eine wunderbare Symbiose aus Gittarre, Keyboards und der besonderen Stimme Göran Edmans, ist einer meiner Lieblingssongs. Das Sahnehäubchen des folgenden "This Romance" sind definitiv die zweistimmigen Gesangsparts – geil. Ein Klavier-/Violinintro begleitet uns in den nachdenklichen Track "Warlord", unterstützt von Raphael Gazal. Markant, wie bei allen songs, Marcs omnipräsente Gittarre. Die nächste Nummer packt einen gleich am Nacken – "Bad Blood" wieder mit Oliver Monroe im Boot. "Bitter Symphony", erneut mit Raphael Gazal am Start, läutet den Endspurt des Albums ein. Kompakter Sound, fette Drums, perfektes Zusammenspiel von Keyboard, Gittarre und Gesang…ein Ohrenschmaus.
Den Abschluß macht "My Darkest Hour", nochmals mit Unterstützung von Paulo Cuevas. Die Powerballade beginnt mit Akkustik-Gitarrenintro und baut sich im weiteren Verlauf zu einem voluminösen epischen Stück auf…passender Abschluß für ein klasse Album.
"Phoenix from the Ashes" ist ein sehr gutes Rockalbum das man von vorne bis hinten durchhören kann, keine Hänger, keine "Filler". Fans der gepflegten Rockmusik werden ihre Freude haben. Ich habe es jedenfalls sehr genossen, 9 von 10 Punkten. Meine beiden obligatorischen "Lieblinge" sind "You and I" und "Bad Blood", aber das nur am Rande.
9/10
Pep Si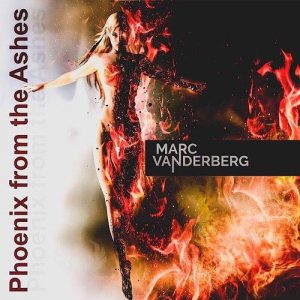 With his new album "Phoenix from the Ashes" guitar virtuoso Marc Vanderberg has created another piece of finest rock music. Supported by some other outstanding musicians, a great album has been produced.
Opener "Odin's Words" starts with a slow intro, it quickly turns into a firework of drums, keyboards and of course the unmistakable guitar parts by Marc Vanderberg. On top the Paulo Cuevas' unique voice. Tave Wanning & Chris Divine are part of this song too, as well as on every other song on this album.
At "Warsong" Philipp Meier shows his shouter qualities, great performance. Powerful guitar harmonies accompanied by driving rhythm, very cool. "Legalize Crime" is a cool rock song in which Paulo Cuevas once again proves his vocal qualities. Title song "Phoenix from the Ashes" is a perfect match. The mid-temp-track is a superb package of virtuoso guitar parts, cool riffs, perfect vocals by Oliver Monroe, Keys … simply amazing. "You and I", a wonderful symbiosis of giutar, keyboards and the special vocals of Göran Edman, is one of my favorite songs. The icing on the cake of the following "This Romance" are definitely the two-part vocals – cool. A piano/violin-intro accompanies us into the thoughtful track "Warlord", supported by Raphael Gazal. Striking, as with all songs, Marc's omnipresent guitar. The next track grabs you right at the neck – "Bad Blood", again with Oliver Monroe on board.
"Bitter Symphony", vocals by Raphael Gazal, introduces the end of the album. Voluminous sound, heavy drums, perfect interplay of keyboard, guitar and vocals …ear candy.
"My Darkest Hour", again with the support of Paulo Cuevas, completes the album. The powerballad starts with acoustic guitar intro and builds up in the further course to a voluminous epic piece … perfect completion for a great album.
"Phoenix from the Ashes" is a very good rock album tolisten through from start to end – no "fillers". Rockfans will love it, for sure. I definitely enjoyed it, 9 out of 10. My two faves on this album are "You and I" and "Bad Blood", but that's just a side note.
9/10
Pep Si