Band: Out Of Darkness
Country: Florida/USA
Album: SEIZE THE DAY
Released: August 2020
Review by: Juergen Lang aka PepSi
Editor: T-Bou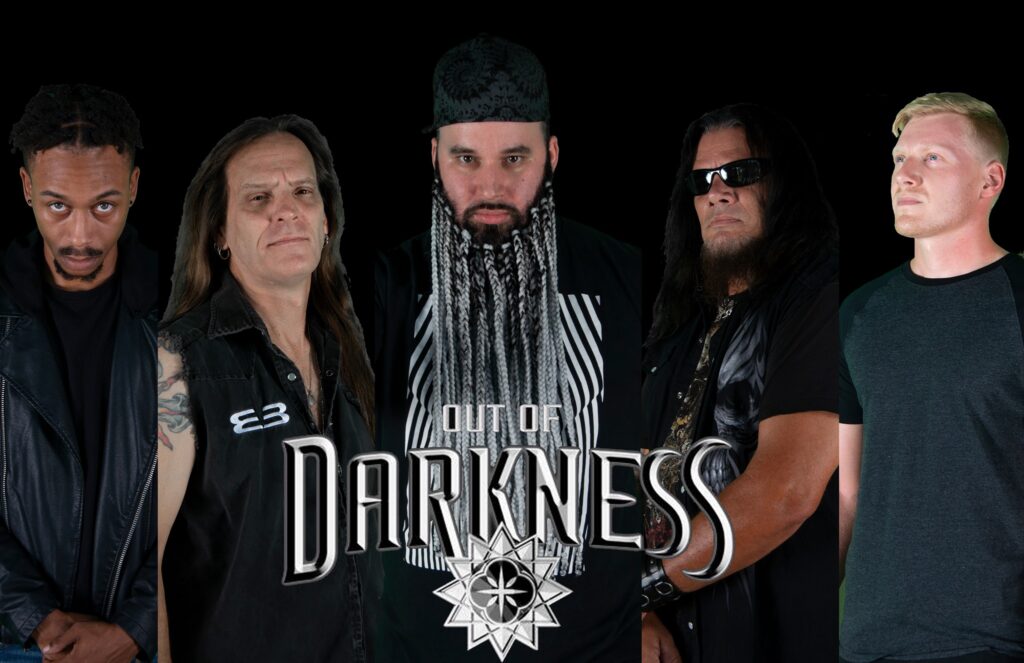 ::: english below :::
Die Ende 2019 von Brent "Deadly" Smedley, vielen bekannt als Drummer von ICED EARTH, und Eric Barrios, vorher Solokünstler (Gesang, Gitarre), gegründete Band OUT OF DARKNESS, hat im August dieses Jahres, bereits ein paar Monate nach Gründung, ihr Debut veröffentlicht. SEIZE THE DAY ist ein 7-Track-Sampler der sich sehen und vor allem hören lassen kann.
Der Opener OH MY zieht einem schon beim ersten Anschlag der Bassgitarre die Wurst vom Brötchen. Wie es sich für eine vernünftige Eröffnung gehört, wird gleich mal alles "in den Ring geworfen". Angefangen vom fetten und virtuosen Bass Bronzell Smith's über den versatilen Gesang Eric Barrios', den glasklaren bis ins kleinste Detail funktionierenden Gitarrenharmonien von Cody "Such" Suchowski und Shawn Johnson, bis hin zum den Song vor sich hertreibenden Schlagzeuggewitter Brent "Deadly" Smedley's… ein Brett vor dem Herrn. Der Text von Eric Barrios ist beeinflusst vom Thema Nummer eins dieser Tage – COVID. Er beschreibt, wie der allgegenwärtige Virus aktuell unser aller Leben bestimmt.
Nach dieser "Vollgasnummer" geht's mit TROUGH THE LIGHT sehr abrupt runter vom Gas. Das halbminütige Instrumentalstück, hervorragend auf dem Klavier vorgetragen, ist die perfekte Überleitung zu I SURRENDER. Der Coversong, der im Original – man höre und staune – CELINE DION stammt, wird als kraftvolle Powerrock-Ballade präsentiert. CELINE DION dürfte wohl jedem, der von seiner Herzdame dazu genötigt wurde mit ihr den Film TITANIC anzusehen, bekannt sein. Ein weiteres Mal beeindruckend die Stimmvielfalt von Eric Barrios… Wow.
Der daran anschließende Titelsong SEIZE THE DAY setzt fort, was der Opener begonnen hat – purer Metal feinster Güte. Der nachfolgende Track KNTRL, aus der Feder von Eric Barrios, tut es ihm gleich und hat alles das, was OUT OF DARKNESS ausmacht…Variabilität, Tempo- und Rhythmuswechsel, versatiler Gesangsstil – kein Song klingt wie der andere, es wird nie langweilig oder gar monoton. Jede Nummer überrascht aufs Neue.
So auch FREEDOM TO BE FREE. Das Mid-Tempo-Stück zeigt eine weitere Facette der Band. Sanftes akustisches Gitarrenintro, getragen von, ich kann es nicht oft genug erwähnen, der beeindruckenden Vokalrange von Eric Barrios…ein sehr geiles Stück. Brent "Deadly" Smedley hatte den Song schon seit ein paar Jahren in seiner Schublade und hat ihn, zusammen mit Chuck Shea (THE BIG DISMAIL), für das Album neu überarbeitet.
Den würdigen Abschluss macht der "Rausschmeißer" THINK AGAIN. Die Musik dazu wurde von Co-Writer Chuck Shea komponiert, der Text, wie bei den meisten Tracks, kommt von Eric Barrios.
SEIZE THE DAY ist ein sehr abwechslungsreiches Album das mir viel Freude bereitet hat. Ich freue mich jetzt schon auf den Nachfolger, der hoffentlich um den einen oder anderen Song reicher ausfallen wird. Ich bin davon überzeugt, dass das erst der Anfang war und OUT OF DARKNESS noch einige Überraschungen für uns parat hält.
Ich persönlich habe diesen Sampler und die Band OUT OF DARKNESS tief in mein "dunkles Herz" geschlossen. Von mir gibt es dafür volle Punktzahl, vor allem auch, weil ich keinen Song herausheben kann, so wie ich es normalerweise tue… das Gesamtpaket ist ohne Mängel. Das Teil ist auf "bandcamp" zu haben – ich kann es nur wärmstens empfehlen.
In diesem Sinne, bis zum nächsten Review… Euer PepSi
Punkte: 10/10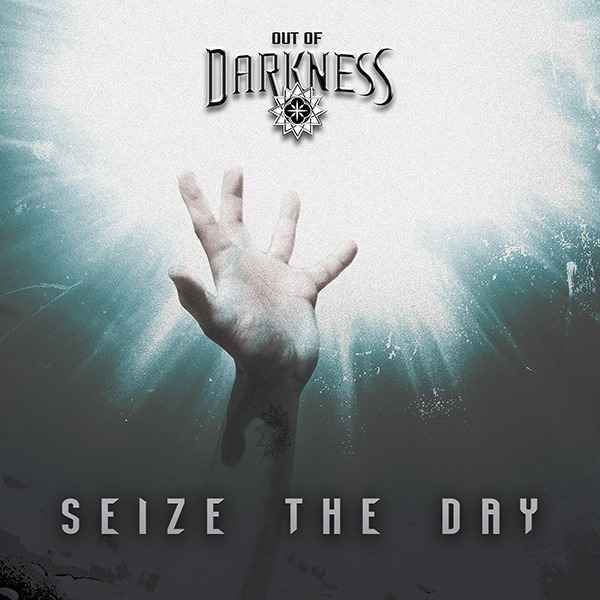 The band OUT OF DARKNESS, founded at the end of 2019 by Brent "Deadly" Smedley, well known as drummer of ICED EARTH, and Eric Barrios, previous Solo Artist (Vocals, Guitar), released their debut. SEIZE THE DAY is an awesome 7-Track-Compilation.
The opener OH MY pushes full throttle right from the start. The track puts everything on the table. Starting with the stomping and virtuoso bass play of Bronzell Smith to the versatile vocals of Eric Barrios, the crystal-clear guitar harmonies of Cody "Such" Suchowski and Shawn Johnson, which work and sound amazing in each detail, to the thunderstorm Brent "Deadly" Smedley creates…badass. Eric Barrios' lyrics are influenced by the number one topic these days – COVID. It describes very real how the virus currently determines our lives.
After full throttle with this song, TROUGH THE LIGHT slows down abrupt. The half-minute instrumental piece, performed excellently on the piano, is the perfect transition to I SURRENDER. The cover song, which was – listen and be amazed – originally from CELINE DION – is performed as an energetic Power-Rock-Ballad. CELINE DION should be known to everyone who "got convinced" by his "Queen of Hearts" to watch the movie TITANIC. The voice range of Eric Barrios is again very impressive… Wow.
The following title track SEIZE THE DAY continues what the opener began – pure Metal of the finest quality. The next one – KNTRL – written by Eric Barrios, follows the same direction and is presenting all that defines OUT OF DARKNESS… Variability, speed- and rhythm changes, versatile vocals…no song of this Band sounds the same, it never gets boring or even monotonous. Every track is a surprise again.
So does FREEDOM TO BE FREE. The mid-tempo number shows another facet of the band. Soft acoustic guitar intro, carried by, I can't mention it enough, Eric Barrios' impressive vocal range… a very cool piece. Brent "Deadly" Smedley had the song in his drawer for a few years and reworked it for the album together with Chuck Shea (THE BIG DISMAIL).
The "bouncer" THINK AGAIN makes the worthy conclusion. The melody is created by Co-writer Chuck Shea, the lyrics, as with most of the tracks, come from Eric Barrios.
SEIZE THE DAY is a very varied album that gave me a lot of pleasure. I'm looking forward to the follow-up, which will hopefully be extended by a few songs more. I am convinced this was just the beginning and I'm pretty sure OUT OF DARKNESS still has some more surprises in store for us.
Personally, I have taken this sampler and the band OUT OF DARKNESS deeply into my "dark heart". 10 points from my side, especially because I can't tell a favorite song like I usually do… the overall package is flawless. The album is available on "bandcamp" – I highly recommend it.
See ya for the next review… Yours PepSi
Points: 10/10
Tracklist:
Oh My
Trough the Light
I Surrender
Seize the Day
KNTRL
Freedom to be Free
Think Again
Lineup:
Eric Barrios – Vocals, Guitar
Brent "Deadly" Smedley – Drums
Bronzell Smith – Bass
Cody "Such" Suchowski – Guitar