– WORLD METAL  DOMINATION –

:::english below:::
Das Onlinemagazin Metalheads Forever hat seinen Ursprung in der größten Metal Community in Facebook. Eine von David Maloney im Jahre 2010 privat gestartete, geschlossene Gruppe für Metal Liebhaber, die heute eine beachtliche Mitgliederzahl von über 165.000 aufweist. Internationale Reviews, Interviews, Videos, Photos… das Metalheads Forever Magazine lässt jedes Metal-Herz höher schlagen. Vor allem unterstützt das Metalheads Forever Magazine auch Bands, die es verdient hätten international bekannter zu werden. Metal Crash Radio ist begeistert von der Qualität, Idee und Philosophie. Wir freuen uns über die Partnerschaft und das wir helfen können das Magazin auch auf dieser Seite des Teiches zu teilen.
Hier ein Zitat von David Maloney (CEO Metalheads Forever), das die Entstehung und Idee von Metalheads Forever am besten beschreibt:
"Metalheads Forever wurde am 15. Oktober 2010 aufgrund meiner lebenslangen Liebe und Leidenschaft für Metal gegründet. Es wurde mit der Absicht begonnen, einige meiner Metal-Bedürfnisse, sowie die von einigen engeren Metal-Freunden, zu befriedigen. Wie jedes großartige Ding begann es mit einem, dann zwei, drei Mitgliedern… und neun Jahren später, mit mehr als 165.000 Mitgliedern und Fans, macht es uns zu einer der größten und stärksten Metal-Entitäten auf der Erde. Was als Hobby und rein zum Spaß begann, hat sich zu etwas ganz Besonderem entwickelt. Darauf war ich anfangs nicht vorbereitet. Als wir anfingen zu wachsen, bekam ich eine Vision davon, was wir sein könnten und was wir werden könnten. Tag für Tag, Woche für Woche und ja, Jahr für Jahr, konnte ich erkennen, dass dies eine weltweit gemeinsame Leidenschaft war, bei der es nur wenige Orte gab, an denen du nur ein Metalhead sein und die Gesellschaft lebenslanger Metalheads und Gleichgesinnter genießen kannst. Also sitzen wir hier, 9 Jahre später, mit mehr als 12 Untergruppen, die fast alle Unter-Genres abdecken, und sind eine Kraft auf allen sozialen Plattformen von Twitter bis Youtube und alles dazwischen. Wie ihr seht, haben wir mittlerweile unsere Website und unseren Blog fertiggestellt und sogar unser eigenes Online-Magazin gestartet. Wir haben einen langen Weg zurückgelegt, seitdem das erste Mitglied tatsächlich beigetreten ist. Dies ist erst der Anfang für MHF. Wir beabsichtigen, eine Kraft in der Metal-Welt zu sein und zu wachsen und in alle vier Ecken der Erde zu expandieren. Wir möchten Metal und alle Metal-Produkte der Masse näher bringen und jedem Fan der Welt den besagten Platz zur Verfügung stellen, um das zu genießen, was wir zu bieten haben. Wir wachsen, während Sie das als Metal-Community lesen, als Fans und als Familie. Wir werden weiter ausbauen und wachsen und die Bedürfnisse aller neuen und alten Metal-Fans befriedigen und unsere Suche nach der "WORLD METAL DOMINATION" fortsetzen. Wir werden auch unseren Bands, Agenten, Mitgliedsorganisationen und Partnern jetzt und in der Zukunft hundertprozentige Professionalität und Hingabe bieten, um die Musik zu den Leuten zu bringen, damit sie erfahren, dass Metal lebt und sehr gut ist und wir der richtige Ort sind, um alle deine Metal-Musikbedürfnisse zu befriedigen. Die Zukunft ist sehr hell und gemeinsam können wir der Welt zeigen, dass METALHEADS FOREVER mehr als nur Musik ist, sondern ein Ort, an dem jeder sich selbst finden und finden kann, was ihn interessiert und wonach er sucht. Wir sind und bleiben deine Haltestelle für Metal, deine Metal Zone. Lasst uns gemeinsam als Metalheads Forever vorwärts gehen und den Weg leiten zur \ m / WORLD METAL DOMINATION \ m /"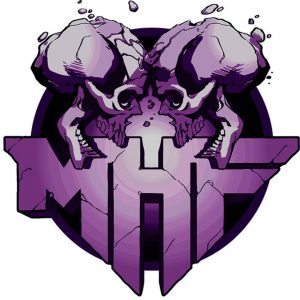 The online magazine Metalheads Forever has its roots in the largest metal community in Facebook. A closed group for metal lovers which started privately by David Maloney in 2010, which today has a respectable membership of over 165,000. International reviews, interviews, videos, photos… Metalheads Forever Magazine makes every metal heart beat faster. Above all, the Metalheads Forever Magazine also supports bands that deserve to be more known internationally. Metal Crash Radio is excited about the quality, idea and philosophy. We are pleased about the partnership and that we can help to share the magazine on this side of the pond.
Here is a quote from David Maloney (CEO Metalheads Forever), which best describes the origin and idea of ​​Metalheads Forever:
"Metalheads Forever was created on October 15th, 2010 because of a life long love and passion for Metal. It was started with the intent to satisfy some of my Metal needs as well as a few close Metal friends. Like any great thing it started with one, then two, then three and nine years later 165,000 plus members and fans make us one of the biggest and baddest Metal entities on the face of the Earth. What started out as a hobby and purely for fun has turned into something very special. I was not prepared for this in the beginning. When we started to grow so did my vision of what we could be and what we could become. Day by day, week by week and yes year by year I could see that this was a Globally shared passion with very few outlets to just be a Metalhead. A place to enjoy the company of lifelong Metalheads and like-minded people. So here we sit some 9 + years later, 12  subgroups covering nearly all sub-genres, being a force on all social platforms from Twitter to Youtube and everything in between. As you can see we just finished our Website and Blog and even started our very own online Magazine. We have come a long way since that first member joined indeed. This is just the beginning for MHF, we are intending to be a force within the Metal World and plan on growing and expanding to all 4 corners of the Earth. We want to bring Metal and all Metal entails to the masses and provide that said outlet for every fan in the World to come and enjoy what we have to offer. We are growing as you read this as a Metal community and as fans and as a family. We will continue to build and grow and supply the needs of all Metal fans new and old and will continue our quest for "WORLD METAL DOMINATION". We also will provide to our bands, agents and affiliates and partners of the now and of the future one hundred percent professionalism and dedication in getting the music to the people, getting the word out that Metal is alive and very well and we are the place to be to find all your Metal music needs. The future is very bright indeed and together we can show the world that METALHEADS FOREVER is more than just music but a place to come and be yourself and find what interest you and what you're looking for, we are and will continue to be your one stop Metal zone. Let's move forward together as Metalheads Forever and let's lead the way to \m/ WORLD METAL DOMINATION \m/"
LINKS:
Magazine: http://www.mhf-mag.com/
FB-Page Magazine: https://www.facebook.com/MHFOfficial/
FB-Groupe: https://www.facebook.com/groups/MetalOnLoud/
FB-Page: https://www.facebook.com/officialmhf/
Instagram: https://www.instagram.com/mhfofficial/
Twitter: https://twitter.com/MHFOfficial
Tumblr: https://mhfofficial.tumblr.com/
YouTube: https://www.youtube.com/channel/UCJaFkMl8osifP8ck_8lHuRg